Adomani Unveils All Electric School Bus
By JD Alois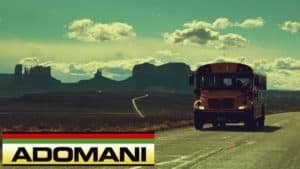 Adomani (Nasdaq:ADOM), a provider of zero-emission and hybrid vehicle drivetrain solutions and electric vehicles, has announced the introduction of the Type D All Electric School Bus. The announcement was made with its partner, Blue Bird Corporation (Nasdaq:BLBD), an independent manufacturer of school buses.
Phil Horlock, President and CEO of Blue Bird, provided a brief summary at a trade show in Reno this week. Horlock stated that Blue Bird has a substantial leadership position in alternative-fueled school buses.
Jim Reynolds, President and CEO of Adomani, commented on the announcement;
"We are pleased to be working with Blue Bird, a trusted partner and long-time leader in the school bus industry, to help produce its first all-electric bus in two decades. This new Type D All-Electric School Bus will allow us to enter a new era of clean energy that will deliver a significant reduction in greenhouse gases. By leveraging state-of-the-art drivetrain and modern battery technology, we will be able to provide school districts and contractors with a reliable, cost-effective and zero-emissions transportation solution.  This benefits our children, our communities and our environment at large."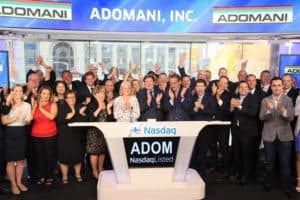 Adomani recently raised growth capital using updated rules created under the JOBS Act of 2012. Adomani crowdfunded on Flashfunders under Reg A+ and then quickly listed its shares on the NASDAQ. Adomani was the first company to accomplish this task thus paving the way for future companies.
Today, shares in Adomani have traded significantly higher than the offer price under Reg A+.
About ADOMANI®
ADOMANI, Inc. is a provider of zero-emission electric and hybrid drivetrain systems for integration in new school buses and medium to heavy-duty commercial fleet vehicles, as well as re-power conversion kits for the replacement of drivetrain systems in combustion-powered vehicles. ADOMANI® is also a provider of new zero-emission electric and hybrid vehicles focused on reducing the total cost of vehicle ownership and helps fleet operators unlock the benefits of green technology and address the challenges of traditional fuel price instability and local, state and federal environmental regulatory compliance. For more information, visit www.ADOMANIelectric.com.
Cautionary Statement Regarding Forward-Looking Statements
Statements made in this press release that relate to future plans, events, financial results, prospects or performance are forward-looking statements as defined under the Private Securities Litigation Reform Act of 1995. While they are based on the current expectations and beliefs of management, such forward-looking statements are subject to a number of risks, uncertainties, assumptions and other factors that could cause actual results to differ materially from the expectations expressed in this press release, including the risks and uncertainties disclosed in ADOMANI's reports filed with the Securities and Exchange Commission, all of which are available online at www.sec.gov. All statements, other than statements of historical fact, are statements that could be deemed forward-looking statements, including statements containing the words "planned," "expects," "believes," "strategy," "opportunity," "anticipates," "outlook," "designed," and similar words. Readers are cautioned not to place undue reliance on these forward-looking statements, which speak only as of the date hereof. Except as required by law, ADOMANI® undertakes no obligation to update or revise any forward-looking statements to reflect new information, changed circumstances or unanticipated events.
For more information regarding this release, contact Investor Relations