ADOMANI Market Value Tops $1B
Chris Casacchia
Thursday, June 29, 2017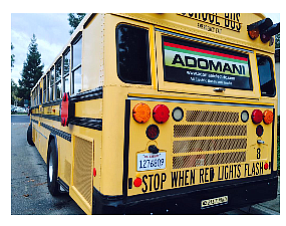 Shares of ADOMANI Inc. surged in afterhours trading Wednesday and opened at $17.30 this morning, the highest price in its short public history on the NASDAQ Capital Market.
The market value of the Newport Beach company crossed $1 billion, joining about two dozen other publicly-traded OC companies that have surpassed that benchmark. Its share price has jumped 97% since the IPO on June 15.
ADOMANI, which converts school buses and other fleets into zero-emission electric and hybrid vehicles, is the first equity crowdfunded company to list on the tech heavy exchange.
The company, traded under the ticker symbol "ADOM," sold more than 2.5 million shares at $5 per share through flashfunders.com. The underwriter was Irvine-based Boustead Securities LLC, a sister company of FlashFunders Inc. in Santa Monica.
The company raised its initial public offering through a provision in the Jumpstart our Business Startups Act, which was signed into law in 2012 by President Barack Obama and allows crowdfunded companies to issue securities.
A central goal of the JOBS Act centered on expanding access to capital for entrepreneurs and emerging companies. Under the law's Regulation A+ of Title IV—adopted by the Securities and Exchange Commission about two years ago—private, growth-stage companies can raise up to $50 million from nonaccredited investors, essentially the general public.
ADOMANI's IPO was Orange County's fifth since February after years of drought.
Company executives are scheduled to ring the Nasdaq Stock Market closing bell on July 6 to commemorate its listing and Regulation A+ distinction.
About ADOMANI®
ADOMANI, Inc. is a provider of zero-emission electric and hybrid drivetrain systems for integration in new school buses and medium to heavy-duty commercial fleet vehicles, as well as re-power conversion kits for the replacement of drivetrain systems in combustion-powered vehicles. ADOMANI® is also a provider of new zero-emission electric and hybrid vehicles focused on reducing the total cost of vehicle ownership and helps fleet operators unlock the benefits of green technology and address the challenges of traditional fuel price instability and local, state and federal environmental regulatory compliance. For more information, visit www.ADOMANIelectric.com.
Cautionary Statement Regarding Forward-Looking Statements
Statements made in this press release that relate to future plans, events, financial results, prospects or performance are forward-looking statements as defined under the Private Securities Litigation Reform Act of 1995. While they are based on the current expectations and beliefs of management, such forward-looking statements are subject to a number of risks, uncertainties, assumptions and other factors that could cause actual results to differ materially from the expectations expressed in this press release, including the risks and uncertainties disclosed in ADOMANI's reports filed with the Securities and Exchange Commission, all of which are available online at www.sec.gov. All statements, other than statements of historical fact, are statements that could be deemed forward-looking statements, including statements containing the words "planned," "expects," "believes," "strategy," "opportunity," "anticipates," "outlook," "designed," and similar words. Readers are cautioned not to place undue reliance on these forward-looking statements, which speak only as of the date hereof. Except as required by law, ADOMANI® undertakes no obligation to update or revise any forward-looking statements to reflect new information, changed circumstances or unanticipated events.
For more information regarding this release, contact Investor Relations